NITE LITES
FEBRUARY 1, 2002
We caught an R train and got off at 32nd Street just a few minutes after 6. I was a bit frustrated that we couldn't look up and immediately see the Empire State Building. We couldn't because we were headed the wrong way on 34th! I soon discovered my error and reversed our course for 5th Ave. With the large number of entrances to the building there seemed to be an acute lack of signage directing tourists. However, security had sufficient presence to also function as a welcoming committee. It wasn't long before we found the correct entrance and cleared security after showing picture ID. We passed through the main lobby and were treated to some wonderful period relief work. The photo below was lifted from the ESB website.
After passing through the lobby and seeing more of the same, we followed the path to the first elevator. Just before reaching the elevator we presented our tickets. I purchased these online at the ESB website. The cost an extra $2.00, but in the event of a busy day you can save time by not having to stand in line. The online tickets(see one below) also have a souvernir look, the ones purchased on site do not.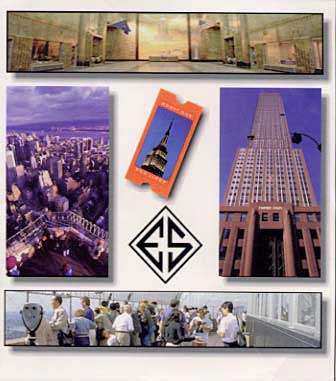 We took an elevator to the 68th(?) floor. From there we took another for the short ride to the 80th(?) floor observation deck. The sky had cleared completely since the afternoon. As we stepped out into the night air, a continuous blast of cool wind burned our faces. The only words Mike could muster were: "Holy shit!". The following images pretty much say it all.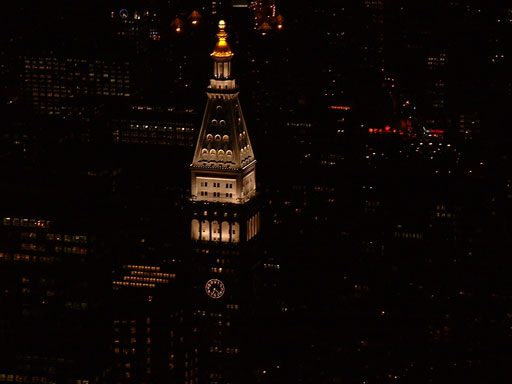 Looking south.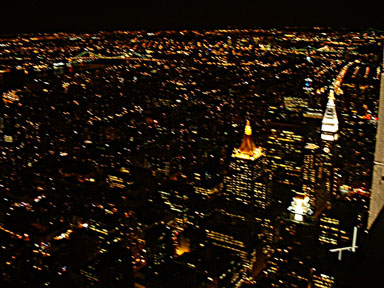 Wider shot looking southeast.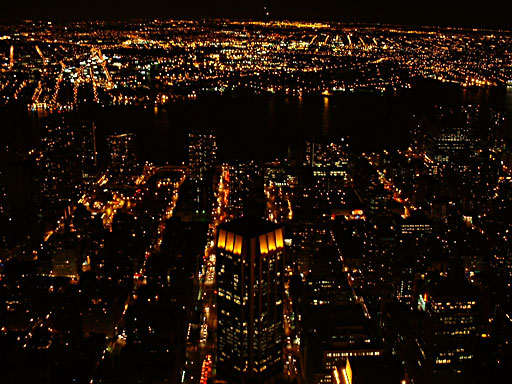 Looking due east.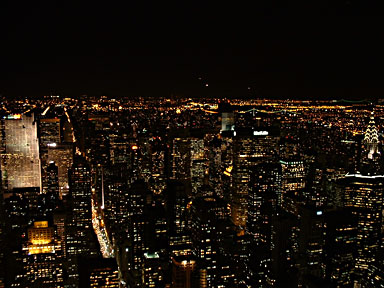 Looking northeast. The Chrysler Building is on the far right of the image. Rockefeller Center is on the far left.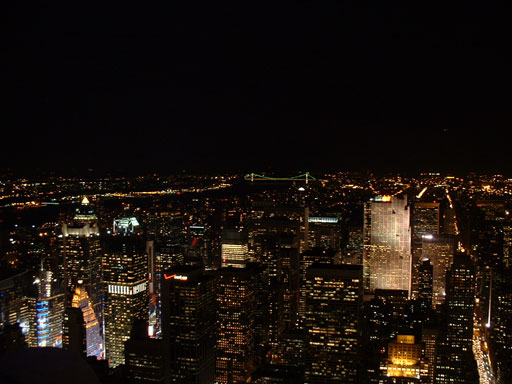 Looking north. Times Square to the left. Rockefeller Center to the right. The George Washington Bridge's lights are visible in the center top part of the image.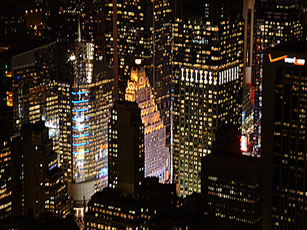 Tight shot looking towards Times Square. The images are a little blurry because Mike was fighting that blast of cool wind.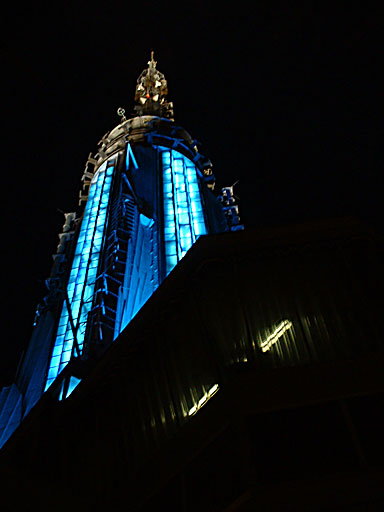 The very top of the ESB, lit in blue, is an obervation tower that used to be part of the tour. That area was closed several years ago. The current lighting scheme is red, white and blue to salute the USA. You can go to the ESB to find the current lighting schedule. It changes color quite often, but didn't while we were there. : ) We stayed for a while to take the view in without being distracted by trying to photograph it. This is the perfect way to get an overview of the city. It's the place were New York feels most like, well, New York! We eventually reminded ourselves we were on a schedule and had to move on. We caught the elevators back down to the street, having to clear our ears a number of times on the way.