SCORE !
FEBRUARY 2, 2002
The clock radio went off at 8:03. Again, a hot shower did the trick. We were back in the Bar 54 for bagels and coffee just before 9. This morning there were individual servings of raspberry jam. It was a small thing, but it really made the bagels. We should have loaded our pockets with the little containers. It was really tasty jam. Sorry to dwell on this, but sometimes it's the really simple things that make a morning. This was one occassion.
With breakfast taken care of we zipped by the room and then headed for the TKTS office at Duffy Square. There was a McDonald's and T.G.I. Friday's on Broadway along our way, both decked out in Times Square attire.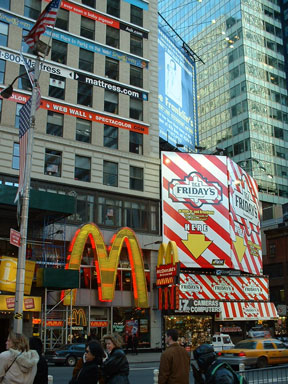 We were hoping to get tickets to Urinetown. We didn't know too much about the show, but it sounded like the right thing to do. It was, after all, "the 2nd hottest ticket in town". We got to the Duffy Square before 10. The ticket windows weren't going to open until 11. Our strategy was not to waste the day waiting on line. We were prepared to make choices in the interest of tme, but only if we had to. It looked, from the crowd, that we could easily burn a couple of hours in the line. I was pretty sure that the Urinetown tickets were handled by TKTS since they said so online. But knowing we each had a cell phone we decided on the the divide and conquer strategy. Mike took cash and headed for the Henry Miller Theatre to see what was cooking in the cancellation line. On his way, Mike caught this parade of NYC mounted police on their way to protect the city from the evil protesters over by the Waldorf-Astoria.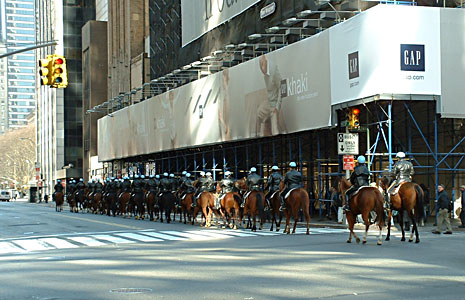 It didn't take long for Mike to ring and say he was next in line at the Henry Miller and that some tickets were available. There were a couple of choices. 4th row mezzanine for $85 or stools in trhe back of the balcony for $25. Given Mike's touch on previous occassions, I offered that the choice was his. I bailed out of the TKTS line and headed for 43rd Street to see how he did. When I arrived Mike was proudly showing off the mezzanine seats.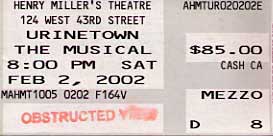 The tickets were labelled "obstructed view." We were told there would be a railing in front of us and it would "only be a big deal if you made it one." Score! It was barely 11 o'clock and we had our tickets. The sun was out and the sky was clear and blue. It was time to play!
HOME
UPTOWN