SCORE SOME MORE!
FEBRUARY 3, 2002
I didn't do a very good job of setting the CD player to go off at 8:00 singing "Run Freedon Run." We woke up on our own a little after 9. We were pretty much in a slow motion, Urinetown stupor. Once we both had a chance to shower we formulated a game plan for our last day in The City. First we would pack and check our bags with the concierge since we had to check out of the hotel by noon. It took us until 10 or so to get our stuff together. Our next step was to plan the day. We figured we would head down towards Times Square, find some breakfast, hit the online cafe and after finding out curtain and departure times, head for the St. James cancellations line to see if we could score tickets to The Producers. If we didn't score, we'd come up with a Plan B.
The concierge had our bags and we were checked out of The Ameritania by 10:15. Once again we found ourselves walking down Broadway towards Times Square. We ambled along in no real hurry. We knew there was an internet cafe somewhere near Times Square, so we kept heading south, figuring we would run into it. Well, we got past 45th and decided as long as we were this far down we would take a look down 44th to see if there was any action at the St. James. From Broadway we could see there was A LINE ALREADY! It was only 10:45a.m. We picked up the pace unconciously as we marched toward the theater. We discovered upon our arrival that there were already 18 people on line in front of us! We immediately got on line and waited in the shade as the cool wind burned our faces. I was a bit under dressed for a long wait, but Mike was free to retrieve some breakfast goodies. It wasn't long before we had some hot bevs and a muffin to share. It wasn't long, too, before the line manager showed up to tell us how things were going to go during our wait. I must say the line management was extremely professional. As the line manager took everyone's name in order, we were told that there would be two choices when the box office opened at noon; 1. we could buy the ticket we were offered(everyone in the line was allowed to buy two) or, 2. we could wait until all the cancellations were sold and then purchase one of the eighteen standing room positions in the rear of the theater for $30. Mike soon calculated we were #'s 28 and 29 in line. I told the line guy when he asked, without sounding too pitiful, that we would take ANYTHING. Mike then asked him what the odds were of getting in. We were given a wavy-hand, maybe-yes, maybe-no-look with a courteous smile. The line guy moved on to the next folks in line.
It then became one of those typical New York waiting-in-line experiences, people offering to hold spots for you while you made a pit stop or went for more coffee, gradual introductions, and lots of smiles while waiting in the wind hoping to get lucky. As promised, the line began to move at noon, if only from the gentle squezze of anticipation as eveyone urged the line forward. The two ladies at the very front of the line who had brought their camp chairs were determined to go for the standing room bargain. They would be entrenched until the cancellations were done, but not before getting well wishes from the rest of the line. The first lucky cancellation reapers were through the door to the box office at 12:15.
Mike and I reviewed our strategy for the 6 or 7th time. Okay, it's Super Bowl Sunday. What fool is going to drive in from Connecticut today to see this matinee? Nathan Lane is out today. Hell, he's probably at the Super Bowl, anyway. Matthew Broderick is in, and he's who we really want to see. After strategy review number 8, 9 and 10, the line had barely moved.
About 20 minutes later, the morning coffee must have kicked in at the box office. Things felt like they were moving a little faster. Maybe it was the fact the sun had warmed things up a bit. At any rate, at 12:45 we found ourselves at the front of the cancellations line. We started giggling like little schools kids, smiling back at the folks behind us in line like we were about to have our pictures taken with Santa Claus. I was secretly hoping for seats in the rear orchestra, at least not, please, in the rear corner of the balcony. The line manager soon emerged from inside with clipboard in hand. He strolled up to us and said, "I have third row mezzanine, face value $100 each. Or, you can wait for standing room." Mike and I looked at each other, completely speechless. I looked to the folks standing behind us to see if they had heard the same thing we did for confirmation. "We'll take 'em", was all I could muster. We got to the window and pulled out the cash(which, buy the way, is all they will accept at the cancellations window). I still couldn't believe my eyes as I held my ticket in my hand.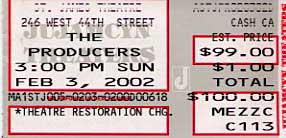 "Yes, they're center mezzanine. Enjoy!", I heard as we walked away from the window. I was still completely stunned as we walked back onto the street. I wanted to high five somebody, but I resisted the urge until I made a goodbye to a linemate and we were well clear of the line. "Holy Shit!", Mike put it so well, again. We weebled back to Times Square totally jazzed.
Times Square now had it's own strange reality. Out of the shade and able to warm up in the bright sunshine we were still in shock as we wandered through the crowd. The police were still out in force and now completely bored to the point of wearing goofy gimmicks like eye glasses with moustaches, Jerry Lewis teeth and the like. Others that were less inventive offered to take pictures for tourists as you can sort of see in this photo. The cop on one knee is taking a snappy for the two girls.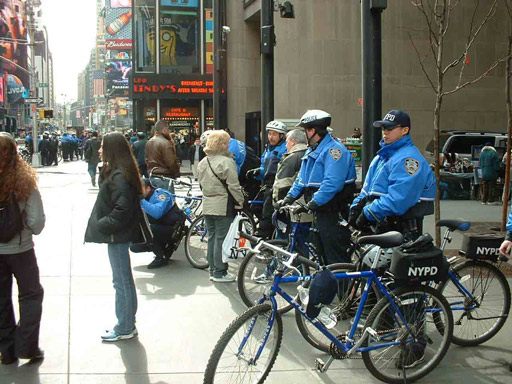 While on Braodway, Mike figured it was time to do a little souvenir shopping for Liv. We walked past The Museum Store, but the Cleopatra thing was less than inspiring or indicative of a bargain.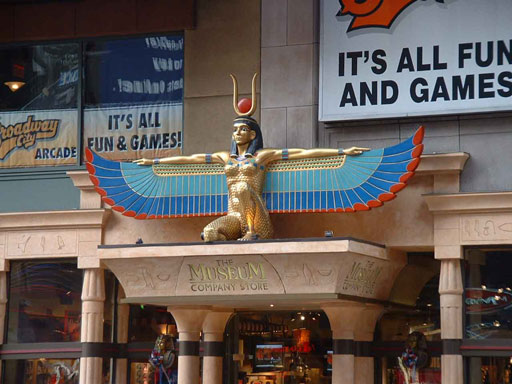 We moved on to the Survivor Store. Not only could you stock up on necessaries for your next deserted island vacation, but there were lots of other CBS stuff here, too. Mike put his credit card to work.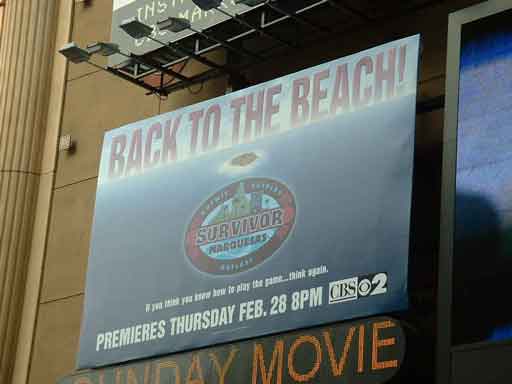 We worked up an appetite shopping, so it was on to lunch. We found a Sbarro's a block or two further north. It wasn't very crowded, but the pizza bar still had lots of choices. We also enjoyed the pizza server's Italian approach to customer service. It was the authentic version of what many Jamestown folk aspire to. This guy had an eyebrow vocabulary that left me wanting to take notes. After the brief show, we grabbed a table and caught our breath. We were still buzzing loud enough that a woman at a couple tables away asked us to review "the score". I was happy to ablige.
Afer lunch we headed back down to 42nd to make one last try at finding the internet cafe. We did. It's called easyEverything's Easy Internet Cafe. It was huge.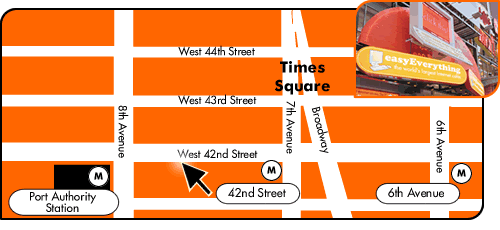 It was also totally worthless.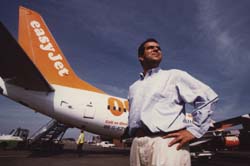 We figured Stelios, the owner(pictured here with hisEasyJet 737)must be somewhere else in the world emptying the other very full fare card machines. He certainly wasn't here at this shop. Only one of the dozen card machines was working. We figured The Producers would be in intermission before we ever got online. We did the next best thing. I stepped out onto 42nd and dialed the 800 number for the MTA. The auto attendant was very well thought out, indeed. In less than two minutes I was having the schedule for outbound trains on our route recited to me. The 6:50pm was going to be the ticket. We headed for the St. James.
HOME
NEXT