Alaska Pictures of the Day #2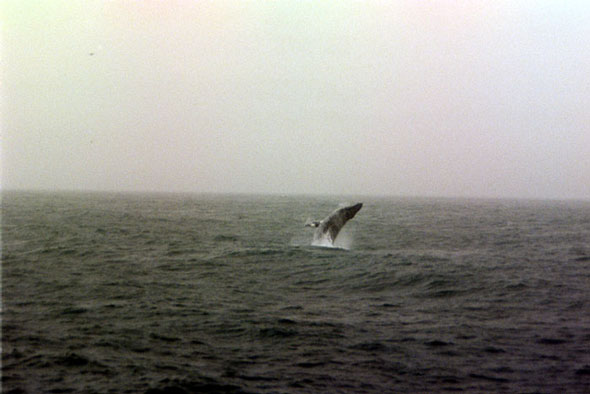 Breech - Resurrection Bay, near Seward. Aboard a Kenai Fjords Tour I was fortunate to see this Humpback breech several times. I snapped this image on its last breech and the one closest us. The sound of the animal breathing was louder than the splash of the water. Well, at least that's my memory. I did not crop this image. I shot it with my Pentax 28-80mm at full zoom. Not much of a zoom, really. We were all quite happy to be so close.
We were scheduled for a 7-8hr. tour, but the weather turned very rough as we headed out to The Gulf. The 6-8' rolls had more than a few people hating life. The captain decided to turn back after giving it a try, "This tour is about fun and I see a few of you aren't having any. We'll go back into the bay. If we go out, it will only be worse coming back." We saw a ton of wildlife and were happy to be off of the rolling seas. If you go to Seward and you do only one thing, make it a Fjord Tour.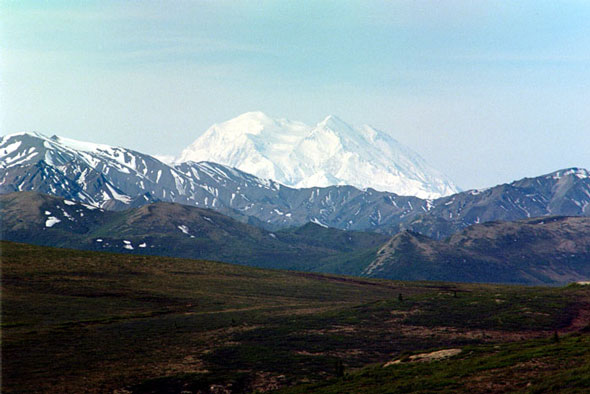 McKinley - I'll use the president's name for this peak here because it's the one most familiar to those of us in the "lower 48". If you look on a map that is published in Alaska, you will see the 20,320' peak is called by it's Athabaskan name, Denali, a.k.a., "The Great One". Denali is shy and is only visible 30% of the time. I was blessed to see it at every opportunity I had during my three days in the vicinity of the park. The mountain is so large that it commands its own weather that one can observe to change quickly. The fickle weather, along with altitude and techincal challenges, is why only 50% of the 1000+ people who attempt to climb it every year are successful. After a recent in-depth survey, another challenge has been found to grip the climbers, "virus-laden poo". Check out the story at:
http://www.cnn.com/2005/TRAVEL/DESTINATIONS/06/16/alaska.reut/index.html
FYI, I took this image on the Tundra Wildlife Tour at Polychrome Pass. I look forward to returning and taking the bus all the way to Wonder Lake, maybe in the autumn.
NEXT