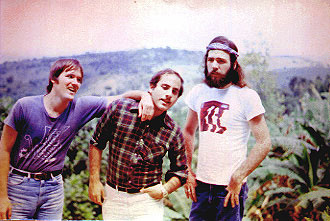 Boy is this an old photo! Shot somewhere in the bush on the north coast of the D.R., Spring, 1981.
Jesu Criste
I joined my cousin Paul Baker(a.k.a., "Pablo") and his UVA classmate Arthur Perlstein(a.k., "The Perl", and "Arturo")in Sosua, Dominican Republic, for a week of rum drinking and beach bumming. Sosua is near Puerto Plata(The Silver Port) on the north coast of the D.R. When I get around to it I'll fill in the blanks, but for now the outline goes somrething like this:
1. Arrival. - Let's see, I got strip searched on the way IN to the country. I guess they didn't like my looks. After clearing customs, I find Pablo and Arturo have just gotten out of jail for "stealing" a fish and are totally pissed having started their day at the rum factory. The fun was just getting started...
2. The Beach - Wearing my bandana the first day on the beach I become known to all of the locals as "Jesu Criste" for reasons that are pretty obvious looking at the photo above.
3. Pills, Thrills and the Billies - Hmmm. I'm not sure how much I should say about this except that it involves some interesting characters, old injuries and a handgun.
4. Souvenir shopping - What do you buy for a souvenir in sugar cane country? A machete, of course! And, ours were custom fitted.
5. Driving in the D.R. - How to deal with flat tires, over-priced gas and making wrong turns in the middle of the night.